Dogs have become a major part of many families these days, but they can be difficult to keep track of. If they want to run off or get hurt, you will need to take extra care of them; otherwise, the dog could end up getting lost or hurt.
The breathable mesh design of the Step in Dog Harness protects your dog from skin irritation and allows air to circulate, making them comfortable to wear. Thanks to the easily accessible quick-release buckle, you can also remove it in an instant with no fuss.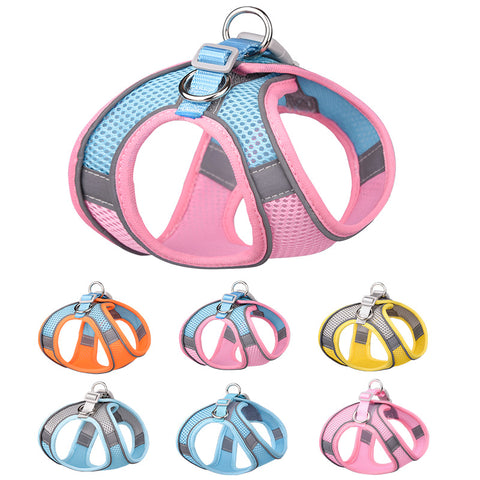 Features:
Breathable and Superlight: This harness for small dogs is made of a breathable, honeycomb-mesh that is gentle on their fur and keeps them cool in the summer. It is great for daily walking, jogging, and training and can facilitate airflow throughout your dog's chest area to help them stay cool in the heat.

Easy on and off: It takes seconds to put on and take off the harness. It especially suits dogs who do not like having their heads covered with a harness, as it is to go over their front feet. Inserted the front legs into the corresponding hole, close the hook-and-loop fastener and snap the release buckle.

Safety Reflective Design:

 

The 360° highly reflective strips and four wide reflective bands provide excellent visibility in the dark. No-Choke design protects dogs' tracheas and throats from pulling and choking, as well as a quick-release buckle for extra security.

Special Design of D-rings: You can attach the dog's ID tag or a clip-on LED light to the D-ring in the front of the harness. Hold dog poop bags or attach a dog leash separately onto the two O-rings on the back of the dog harness. We hope that these little designs will make walking your dog more enjoyable.
Specifications:
Product Name: Breathable Mesh Step in Dog Harness

Suitable for: Small and Medium Pets

Material: Mesh

Colours: Orange+Blue, Blue+Grey, Yellow+Grey, Pink+Blue, Blue, Pink

Sizes: 2XS-for pets 1.5-3kg, XS-for pets 3-4.5kg, S-for pets 4.5-6.5kg, M-for pets 6.5-8.5kg, L-for pets 8.5-10kg

Attention: Please allow 2-3cm measurement error
Size Information:
| | | | | |
| --- | --- | --- | --- | --- |
| Size | Chest(cm) | Neck(cm) | Dog Leash(L*W cm) | Pet's Weight(kg) |
| 2XS | 28-32 | 24-28 | 150*1.5 | 1.5-3kg |
| XS | 32-36 | 28-30 | 150*1.5 | 3-4.5kg |
| S | 36-44 | 30-32 | 150*1.5 | 4.5-6.5kg |
| M | 44-48 | 32-34 | 150*1.5 | 6.5-8.5kg |
| L | 48-54 | 34-42 | 150*1.5 | 8.5-10kg |
Package Included:
1 * Dog Harness + 1 * Dog Leash