Dogs are supposed to be humans' best friends, but they can also be quite dirty. They love to play outside, but sometimes they don't come back home clean. People can hold an umbrella when it's raining outside, what about our dogs?
You can choose our Dog Waterproof Jumpsuit Raincoat, which is perfect to solve your dog's wet and dirty problem. It's a one-piece suit that protects your dog from rain, snow, mud, and dirt. It's easy to put on and take off with the snap-button. The Dog Waterproof Jumpsuit Raincoat is available in different sizes for all breeds of dogs.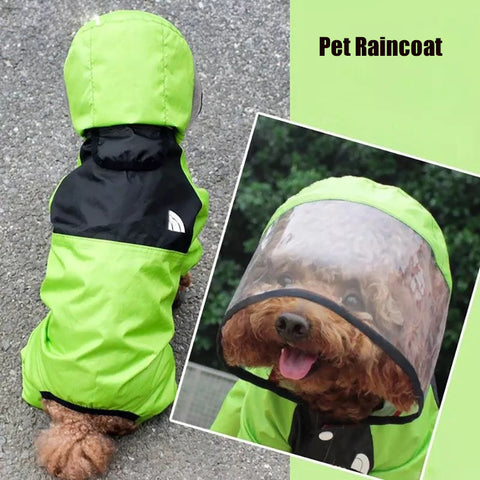 Features:
Comfortable to Put On: The dog raincoat that we offer is made of PU material, which is soft and good for your pet's skin, while also being fashionable to wear. It will be comfortable and take care of your pet in rainy days.

Practical Details Design: The transparent hat of the dog raincoat is great for your dog to look outside. It has a gap on the back, which is designed to connect with your dog's leash and make it easier for you to put it on them. The snap buttons make it easy and convenient to put it on your dog, too.

All-Round Protection for Your Dog: The dog raincoat is designed to cover your pet's entire body, and comes equipped with four sleeves to keep them dry and wind-free during wet weather. You'll never need to worry about walking your dog in rainy conditions again!

Easy to Wash: This dog raincoat is easy to clean either by hand or in the washing machine with cold water and must be dried before use. The use of this raincoat for dogs reduces the likelihood of a wet dog shaking water off onto objects not meant to get wet, such as furniture and carpets.
Specifications:
Product Name: Dog Waterproof Jumpsuit Raincoat

Item

Type: Pet Raincoat

Pet Type: Dogs of different size

Material: PU

Colour: Rose Red, Green, Red

Size: XS-for pets 1-1.5kg; S-for pets 1.5-2.5kg; M-for pets 2.5-3.5kg; L-for pets 4-5kg; XL-for pets 5.5-7.5kg; 2XL-for pets 8-12kg; 3XL-for pets 12.5-17.5kg; 4XL-for pets 18-22.5kg
Size Information: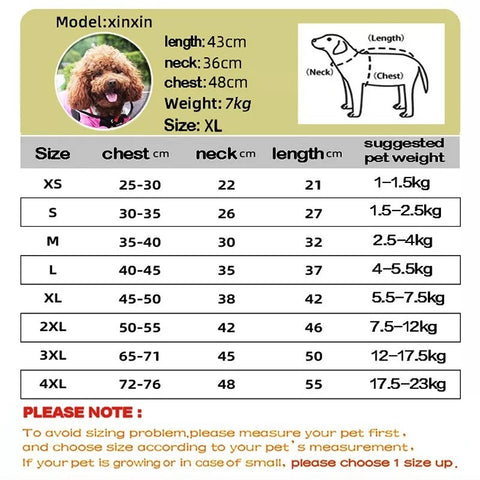 Package Included: