All dog owners love their furry friends, but they can be difficult to control at times. They pull on the leash and make it difficult to walk them, which can lead to accidents and injuries for both the dog and the owner. With a harness you can get back in control of your pet anytime and anywhere.
Our No Pull Dog Harness with Handle is designed to help you control your dog while walking them. It's made with a comfortable and durable Oxford cloth that won't irritate your dog's skin, and it has a handle that makes it easy for you to guide them in any direction you want.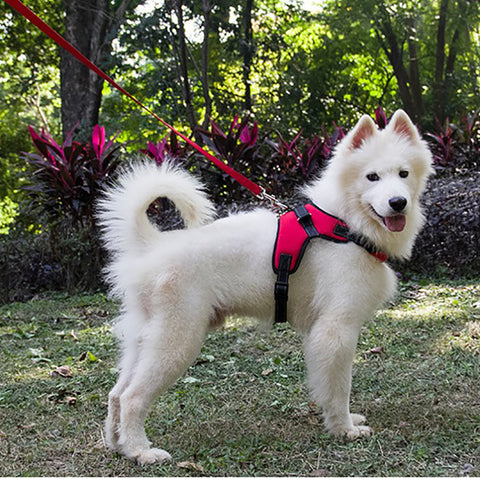 Features:
Comfortable Harness: This dog harness is made from comfortable oxford cloth, which is durable, sturdy, and long-lasting. The dog will love being wrapped in the soft cloth all day long - they won't want to take it off! All of this makes our product the perfect choice for your furry little friend.

Durable Handle: This dog harness is designed with a durable handle, which makes it easy to control your dog. The handle also provides you with a firm grip in times of need for unexpected circumstances.

Fine Workmanship: Our dog harnesses are stronger because they're stitched tighter. The quality of the buckle is also very good, so you can use it with confidence. They are also more comfortable for your pet and easier to put on and take off.

Multi-Colours and Sizes: We have four colors of this dog harness and six sizes to choose from. Our range is always sure to have someone suitable for your pet.
Specifications:
Item Name: No Pull Dog Harness

Category: Vest

Pet Type: Small, Medium and Large Dogs/Cats

Material: Oxford cloth

Colour: Black, Red, Leopard, Camo

Size: XS, S, M, L, XL, XXL

Notes: 1, please allow 1-3cm measurement error; 2, please allow slight colour difference; 3, please choose one size larger if you don't know which size to choose.
Size Information:
| | | | |
| --- | --- | --- | --- |
| Size | Chest(cm) | Neck(cm) | Item Weight(kg) |
| XS | 41-49 | 25-30 | 0.079 |
| S | 53-62 | 45-52 | 0.124 |
| M | 57-68 | 49-56 | 0.13 |
| L | 70-88 | 62-76 | 0.158 |
| XL | 80-100 | 67-81 | 0.17 |
| XXL | 84-108 | 68-82 | 0.178 |
Package Included: