Dogs are a part of the family and are known for being loyal and loving animals. They can sometimes be difficult to control, but with some patience and the proper equipment, walks can be made enjoyable for both you and your canine friend.
A reflective dog harness could be perfect for anyone who wants more control over his walking pup. The harness is both comfortable and easy to use, while also giving you better access to the dog's movements. It is a cost-effective choice that should provide you with everything you need.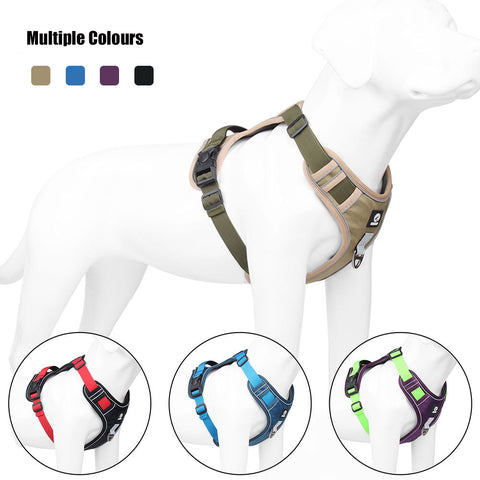 Features:
Reflect at Night: The dog harness is made with reflective strips that allow you to walk your dog at night without the worry of being hit by a car. It provides convenience when taking your dog outside for activities since it is easy to see them in the dark and they are less likely to get lost.

Adjustable to Desired Condition: The harness is designed with four adjustable buckles that make it easy to fit pets of different sizes. This means that your pet's neck will not be constrained by the harness, and they will have maximum freedom to move.

Comfortable to Wear: To ensure the harness is a perfect fit and to prevent excess pressure, we have added multiple wraps around the chest. Along with distributing the pressure evenly, this will also ensure that your pet will not feel any tightness on their chest and can freely walk. The 1680D material also makes it durable, comfortable to wear and soft to touch on your dog's body.

Multiple Choices: This dog harness is available in different colours and sizes, so that you can find the one that suits your pet best. It is perfect for medium sized or large dogs.
Specifications:
Product Name: Outdoor Multifunctional Dog Harness

Material: Oxford Cloth + Polyester

Suitable For: Medium and Large Dog Beds

Colours: Khaki, Blue, Black, Purple

Sizes: S-for pets 4-7.5kg; M-for pets 7.5-14kg; L-for pets 14-22.5kg; XL-for pets 22.5-45kg
Size Information:
| | | | | |
| --- | --- | --- | --- | --- |
| Size | Chest(cm) | Neck(cm) | Item Weight(g) | Pet's Weight(kg) |
| S | 36-46cm | 36-50cm | 205 | for pets 4-7.5kg |
| M | 44-54cm | 46-63cm | 220 | for pets 7.5-14kg |
| L | 47-64cm | 54-71cm | 260 | for pets 14-22.5kg |
| XL | 60-79cm | 68-93cm | 285 | for pets 22.5-45kg |
Package Included: