Many dog owners have to deal with the fact that their dogs often pull on the leash and escape from their owner's control when they are outside. This often leads to accidents and injuries or even frustration.
The Adjustable Dog Harness is a fantastic product for any dog owner who wants to have more control of their pet. It's adjustable so it can fit any size dog comfortably and securely. The harness also has a handle on the back that allows you to enjoy walking your dog while using just one hand.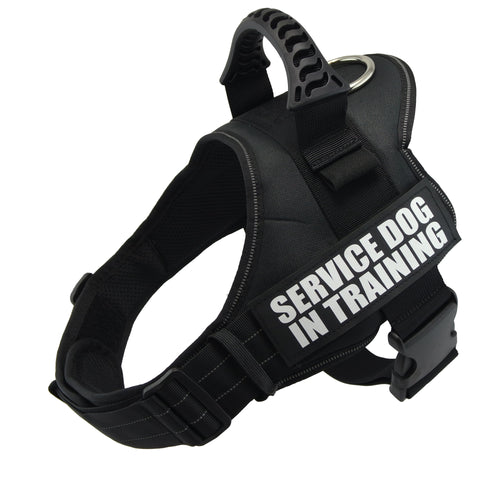 Features:
Durable Material: This dog harness prevents dogs from pulling and tugs during walks so you can enjoy your time outside with them. It is made of durable nylon, which means that it won't need to be replaced for many years.

Extra Handle: The Dog Harness features a durable handle that is designed to make it easier to take your dog away from home. It is super easy and convenient to use- simply slip it over your dog's head, adjust the straps and let go, and you're done! The harness was tested by veterinarians who stated that it's a safe, humane way for owners to walk their dogs without the fear of being pulled too hard.

Safe to Walk the Dog: There are reflective stripes on the dog harness, which you can walk your dog safely at night or in dark place.

Adjustable for Any Size of Dogs: This dog harness is adjustable using the buckle and strap, with six sizes to match your pup no matter how big or small.
Specifications:
Product Name: Pet Dog Harness
Material: 100% nylon material
Gender: General
Applicable Breeds: All kinds of dogs.
Colour: Black, Red, Pink, Deep Blue Camo, Red Camo, Jungle Camo, Colour Grid, Green Doodle, White Doodle, Green (10 colours)
Size: XS, S, M, L, XL, XXL
Size Information:
| | | | |
| --- | --- | --- | --- |
| Size | Chest(cm) | Neck(cm) | Product Weight(g) |
| XS | 44.5-57.5 | 28-36 | 125 |
| S | 50-64 | 40-51 | 167 |
| M | 61-81 | 50-66 | 273 |
| L | 70-95 | 58-75 | 328 |
| XL | 80-113 | 63-87 | 335 |
| XXL | 83-118 | 77-95 | 354 |
Package Included: