Functions:
The Wobble Wag Giggle Dog Ball is an interactive toy that promotes canine health and entertainment. This herding ball emits a fun giggle sound when rolled, shaken, or gripped effortlessly. It operates without batteries and serves as both a chew toy for teeth exercise and cleaning, as well as a solution for relieving boredom. Enhance your bond with your furry friend by training and engaging with them using this collie ball.
Features:
Safety guaranteed: This squeaky ball is made from safe and non-toxic PVC, ensuring your pet's safety. It is both bite-resistant and durable, serving as a reliable training tool that won't easily break.
Puzzle companion: The dog is attracted to the sound coming from the giggle wiggle ball's built-in sound hole while biting. With this dog chew toy, you can bid farewell to concerns about your dog causing chaos, feeling anxious, or being lonely.
Interactive dog toy: This giggle ball will be adored by your dog, fostering mutual affection through interactive training.
Great for all dogs: Our rolling ball comes in three sizes, doesn't take up space, and is easy to store. It's ideal for pets of all sizes.
Easy to use: Shake the dog ball toy to create a fun noise and grab dogs' attention effortlessly, without requiring any batteries.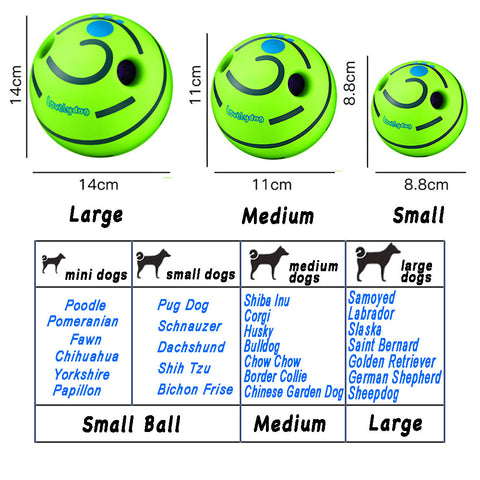 Specifications:
Product name: Indestructible Squeaky Puppy Puzzle Toys for Strong Chewers
Weight: 420g/0.9lb
Material: imported PVC
Dog Ball size: 14cm/ 5.5inch, 10cm/3.9inch, 8.8cm/3.5inch
3 Colors: green ball, yellow ball, white luminous ball(light up dog ball)
Note: Only the white ball shines at night!
Package included: 1* wobble ball dogs
Shipping Method: standard shipping for 6-8 business days, or express shipping for 3-7 business days
24/7 Customer Service: please contact us before, during and after purchase, we will get back to you within 12 hours!
Extra Discount Available: contact us to get the extra discount if it is necessary for you!