Dogs that wear a collar and are at risk of pulling on their leash can easily injure themselves. A way to prevent this is by using a no-pull dog harness. If you're having trouble finding a comfortable one, our Soft Mesh Dog Harness is your answer!
You'll love how easy this dog harness is to put on. All you do is walking your pet into it with its front legs, attaching the matching leash, and you're done. This harness lets your pet feel secure and comfy on walks, it also doesn't harm their neck like other leashes/collars would. Your pet should be feeling good as new after a walk thanks to this clever device!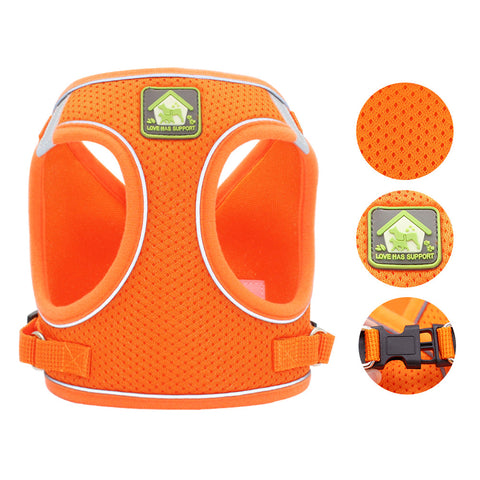 Features:
Comfortable to Wear: The fabric of the dog harness is breathable cloth and is suitable for all seasons. The outside material is breathable and comfortable while the inside material is not sticky to hair. The whole dog harness is lightweight and will not cause any burden on your pet.

Convenient to Wear: Simply put your pet's legs through the harness, fasten the hook loop and button it up, attach the matching dog leash onto the two D-rings on the back of the harness and you're done! The strap is adjustable so your pet will not feel restrained.

Reflective Strips: Providing your pet with a reflective harness is one of the best ways to secure both its safety and your own during nighttime walks. The reflective material on the straps not only makes your pet more visible to other people, but also minimizes the risk that they'll be hit by a car.

Attaching Dog Leash: There is a giveaway dog leash available, which saves you time and money by not having to purchase another dog leash to match the harness.
Specifications:
Product Name: New Reflective Breathable Dog Harness with Dog Leash

For pets: Small and Medium Dogs

Material: Polyester Breathable Mesh

Colours: Pink, Orange, Blue, Red, Black, Navy Blue

Sizes: XS-for pets under 1.5kg; S-for pets 1.5-3kg; M-for pets 3-4.5kg; L-for pets 5-7kg; XL-for pets 7.5-10kg
Size Information:
| | | | | |
| --- | --- | --- | --- | --- |
| Size | Chest | Leash Length | Suggested Weight | Harness Weight |
| XS | 26-29cm | 150cm | under 1.5kg | 83g |
| S | 30-34cm | 150cm | 1.5-3kg | 87g |
| M | 35-40cm | 150cm | 3-4.5kg | 96g |
| L | 41-46cm | 150cm | 5-7kg | 104g |
| XL | 47-52cm | 150cm | 7.5-10kg | 118g |
Package Included:
1 * dog harness + 1 * dog leash