Pets are a part of the family, and they deserve to be warm and comfortable. But it's hard to find an appropriate coat for them because they come in so many different shapes and sizes. 
The Thick, Solid Dog Coat is made of nylon and cotton fabric and is designed to fit puppies and cats. It's easy to put on and take off, so you can dress your pet in seconds. The dog coat is perfect for winter and autumn, and will keep your pet warm during cold days.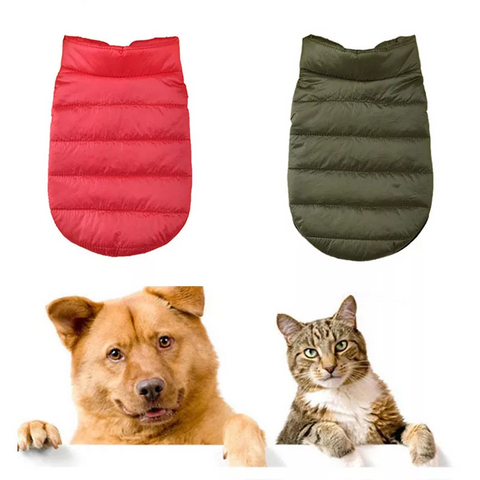 Features:
High Quality Material: We use the best materials to ensure durability and longevity, designing our products to last.

Warm and Comfortable: The cotton-stuffed dog coat will keep your pup warm and happy all winter long. It's also designed to be comfortable for your pet's longer fur.

Widely Used: The dog coat is available for puppies, cats, and other small pets of all shapes and sizes. There are a variety of sizes to suit the needs of your pet.

Easy to Put on and Take off: This coat features a convenient design for putting on and taking off. You can get your pup in and out of it without too much fuss, so you'll be able to make quick trips to the destination with them.

Easy to be Washed: You can wash it by hand or in a machine with cold water, and it will come out looking like new.
Specifications:
Item Type: Dog Cotton Jacket

Pet Type: Puppy, Cats

Style: Casual, Fashion

Material: Nylon and Cotton

Fit for Seasons: Winter, Autumn

Size: XS, S, M, L, XL,2XL

Colour: Red, Army Green
Size Information:
Package Included: